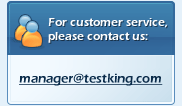 "I always referred my friends to Testking before, but now I do it with a link in my emails, and I earn money doing what comes natural. I can't believe how easy it is to make a link and create a referral. Thanks for the program!"

- Jesse Cameron
(MCSE, MCDBA)

"The affiliate textlinks that I placed in my content are out performing my Test King banners! Your admin is easier than generating Adsense links, and I see the clicks and channel info immediately. I love it!"

- Obak T.
(Webmaster)

"I couldn't turn my back on a 25% kick-back from all the traffic I send Testking and I'm glad I didn't. With the channels and raw link generator I'm going to make you rick from PPC advertising."

- Becky Roberts
(SEO Manager)



How does the affiliate program work?
The Testking Affiliate program allows you to create custom links and banners for your website or Affiliate Advertising Campaigns to capitalize on Testking products. Visitors to your site who click on your Testking Affiliate links and then purchase a Testking product, will generate a 25% commission for you and paid monthly by Bank Wire, Check or Paypal.

Visitors to Testking through your affiliate links are tracked using cookies stored in the visitor's browser. The cookie flags the visitor as your referral for 60 days. If the Testking visitor decides not to purchase a product or service on the day they link, you will still get credit for their purchase, if it is made within 60 days.

Commission "checks" (Bank Wires, Checks or Paypal) are sent once a month, on balances $100.00 and more.

There are no fees associated with the Testking Affiliate program (unless you select payment by Bank Wire), you are able to make as many links as you like, for use on as many websites that like. (You are responsible for any hosting charges, internet access, and domain registration charges that come with creating a website and hosting web pages. Consult your hosting company, internet service provider, and domain registrar for more information.)

How is this different from the resellers program? Which is right for me?
The Testking Affiliate program is designed for owners of web sites who create content regarding the IT Industry and Certification. ANYONE can become a Testking Affiliate and create links for their web site or Affiliate Marketing Program. Testking Affiliates create links that direct site visitors to the Testking web site, where we promote Testking Products and take care of order processing and payment. You are rewarded for the referral and sale with a 25% commission on the customer's purchase.

Testking Resellers are typically people or small businesses with direct contact to Certification Candidates. A Testking Reseller facilitates the purchase and up front promotion or selling. Testking Resellers purchase the Testking Products from us at wholesale prices and then re-sell the products to their customers at any price they choose. The amount of money a Testking Reseller makes is determined only by their retail markup. The Testking Reseller program does not limit resellers regarding the final price they charge.

If you are a web site owner who would like to create additional revenue with no selling, then the Testking Affiliate Program is for you. If you are interested in contacting customers directly, or already have a customer base - then the Testking Reseller Program is more suited for your needs. Contact Testking Affiliate Support to discuss your situation and our recommendations if you need help making a decision.

Is there a fee for joining? Any other costs?
There are absolutely no sign-up fees or performance requirements for opening a Testking Affiliate account. There may be a fee for sending Bank Wires if you select that as your payment type, depending on the country your bank operates from.

There is a minimum balance required before you receive a payment from the Testking Affiliate Program. You must have at least $100.00 in commissions before we will issue a payment. If you do not achieve this minimum in any month, the balance forwards to the next month until you have reached that amount, or more.

You are responsible for any fees associated with hosting, internet access or domain registration. These are normal costs associated with having a web site, and they are your own responsibility.

How much work is involved? Do I have to do marketing?
Creating Testking Affiliate links is easy! You can generate an affiliate link in less than a minute after signing into your Testking Affiliate account.

There are programs available for publishing your affiliate links in advertising campaigns, and PPC (Pay Per Click) Programs, however placing the affiliate links within your existing content, or using banners on your own site will probably work best for the average web site owner/operator.

If your site is new, or if your web site does not have significant traffic, then you may want to look into advertising or marketing. Keep in mind that your commissions are paid based on sales from the links directed to Testking, not simply the visitor clicking on the link or ad.

We recommend placing focus on Search Engine Optimization and relevant content within your existing site. Create value-added pages that appeal to your audience, with affiliate links embedded in the content. Natural appearing, or contextual links tend to have a much higher click through rate, than glitzy banner ads.

Will I have to offer customer support to buyers?
Testking provides customer and technical support to all of its customers regardless of how the sale was generated. Once the customer has left your site through the affiliate link and came to TestKing, all you have to do is wait for them to make a purchase. Testking will handle the account creation, billing and processing, and technical or customer support.

How much can I expect to make?
As a Testking Affiliate, you will earn 25% of each sale created through your affiliate links. A purchase of $100.00 in Testking products will add $25.00 to your Testking Affiliate Balance.

There is no limit to the number of visitors that you can send, and there is no limit to the amount of commissions you may earn.

Visitors arriving at Testking through your affiliate links are tracked with a 60-day cookie, stored in the visitors' browser. The prospective customer can make their first purchase from Testking any time during that 60-day window and you will receive the 25% commission for that sale.

NOTE #1: If customers referred by you request chargeback(s) or refund(s) then the corresponding sales' commission(s) will be deducted from your affiliate account balance.

NOTE #2: Affiliate accounts having % of chargebacks above industry average will be blocked and deactivated without a notice.

How do I know when someone has clicked the link on my site? How do I know when they've bought a product?
Every Testking Affiliate receives access to an Testking Affiliate administration control panel. Within the control panel you can view your affiliate link stats, which includes: aggregate and by-channel impressions, aggregate and by-channel number of clicks on links, aggregate and by-channel number of sales generated from links, and total earnings from links (aggregate and by-channel data).

Testking Affiliates have the ability to make custom channels for better tracking of links/ads and performance. An affiliate may choose to create a channel for links or banners in a specific location, common on many pages, or perhaps all links on a specific page or web site. Using channels can assist you in finding the best locations and types of links that perform best on your site(s), and with your site(s) visitors.

How can I be sure I'm being paid my full commissions?
Every Testking Affiliate receives access to an Testking Affiliate administration control panel. Within the control panel you can view your affiliate link stats, which includes: aggregate and by-channel impressions, aggregate and by-channel number of clicks on links, aggregate and by-channel number of sales generated from links, and total earnings from links (aggregate and by-channel data).

In addition to this, you also have a segment of statistics displaying the exact products purchased from your directed traffic, and the amount of the commission generated. The sum total of all the purchases' commissions will equal the amount of your commission payment. The data you see regarding your traffic and sales, is the same data we use to pay your commissions.

How am I paid?
As a Testking Affiliate you have the option of being paid by Bank Wire, Check, and PayPal. Once you have generated a minimum of $100.00 in commissions you are eligible for a payment for the balance of your affiliate account.

Payments made by Bank Wire take approximately three days to process and may include a banking fee, depending on your bank and the country it operates from.

Check payments are mailed payable to the owner of the Testking Affiliate account on record when signing up. Checks are sent via United States Postal Service. Testking Affiliate checks may also be sent via Federal Express, or registered mail, at your request and expense.

How often am I paid?
Testking Affiliate payments are made once a month on 16th. Only affiliate accounts with a balance of at least $100.00 will be processed for payments. Accounts that have not met the minimum balance will be carried forward to the next month, until the minimum amount has been achieved.

Note: You can get the first affiliate payment in 3 months after joining Testking affiliate program. This is done to avoid fraudulent affilaite referred sales.

How do I get started?
Signing up for the Testking Affiliate Program is easy and free! Simply go to http://affiliate.testking.com and enter your information into the registration form.

You will be sent a confirmation and verification email, so be sure to leave a valid working email address. Your verification email will contain a link that you can click, or copy and paste into the URI bar in your favorite browser. This link confirms your email address and activates your affiliate account. You can now create affiliate links immediately and begin making money with the Testking Affiliate Program.

If you have any questions regarding registration, or if you do not receive your verification email, please contact Testking Affiliate Support.

How do I add an affiliate link to my website?
Creating links from the Testking Affiliate control panel is easy and it takes seconds to do. You will need to be logged into your Testking Affiliate control panel to create links. Follow these steps:
Log into your Testking Affiliate control panel
Click the Get Links link in the top navigation.
Select your Ad Type
Select a channel (if necessary)
Select the Testking page you want to link to
Your HTML link code is generated in the Link Code text area
Copy and paste this HTML code into your web page using an HTML editor (like DreamWeaver or FrontPage).
Upload your page to your server and view!
There are different Ad/link types you can select in the Advertisement Links form. With the exception of the Raw Link, all of these ads are tracked for impressions, clicks, and sales.
Text Link
A Text Link is simply the key word of the linked item on the linked page. If you are linking to the Cisco 360-001 page on Testking, your Text Link will display as "Cisco 360-001". This format is perfect for contextual advertising.

Example: TestKing
Text Link with Description
The Text Link and Description is similar to the Text Link in the fact that it also uses the keyword for the link, however it also follows the link with a short sentence or paragraph regarding the page. This link is popular for lists above or below technical articles.

Example: TestKing - TestKing premium exam training tools and resources
Banner 125x125
A small branded graphical banner 125 pixels wide and 125 pixels tall. This banner can be used anywhere in a web site of wrapped by content. This size also works particularly well in blogs.

Example:

Banner 468x60
The typical 468x60 banner advertisement found at the tops and bottoms of web sites and web pages all around the world. This advertisement works well in marketing campaigns and web rings. It also performs well with web templates designed with banners in mind.

Example:

Buy Now Link
A Buy Now Link uses the keyword of the page you are linking to, with the term: "Buy Now" following the link. This link can be styled to match, or contrast your existing site design and creates a sense of urgency.

Example: TestKing - Buy Now
Raw Link
The Raw Link format provides no Impressions tracking. It is simply the URI of your Testking Affiliate link.

Example: https://affiliate.testking.com/adhit.php?i=0&c=MjEwNHwx&ad_channel=591
You can easily use the Raw Links to create HTML code in making custom ads or banners for your site, or for submitting to other Affiliate Marketing campaigns. Raw links will still track clicks and sales, however the code for impressions has been stripped to make it easy to use for your custom needs.

Do I have to have a web site to join the affiliate program?
No. There are many ways to create revenue from affiliate marketing links, including: PPC ads, contextual linking, joining banner share programs. However the easiest way to use your Testking Affiliate account, will be with your own site, and embedding links or banners within your own pages that you can control.

There are no requirements for joining the Testking Affiliate program. You can create a revenue stream using your own web site, or take advantage of affiliate marketing platforms and generate an income without owning a site at all.

Can I display Testking affiliate links on the same page as other ads and affiliate links?
Yes. Testking Affiliate Program participants are paid based on the sales generated from the links that they use. Affiliates are not rewarded for high click counts, which removes most fraud from this system.

You can use Testking Affiliate links any way you choose. Create your own banner ads, join PPC marketing campaigns, or embed links in article content - you choose how to use your links.

Can I use Testking affiliate links in PPC campaigns or AdWords?
There are no restrictions to the use of your affiliate links on your own site, or any other that is enforced by Testking except: using Testking affiliate links in PPC campaigns or AdWords for keywords "testking" and "test king" is not allowed. Check with the advertising company that you intend to use your Testking Affiliate links with, to ensure that they are compliant with their rules and practices.

Do I get any benefit for referring other affiliates?
Yes. Testking does reward referrals of new affiliates. If you would like to refer an affiliate to us, please email manager@testking.com to discuss your account and the new affiliate you would like to have join.

I have signed up but I have some further questions who do I contact regarding help?
Please contact Testking Affiliate Support for any and all questions you may have. You may find answers to your questions within this FAQ, however we welcome all questions and comments.